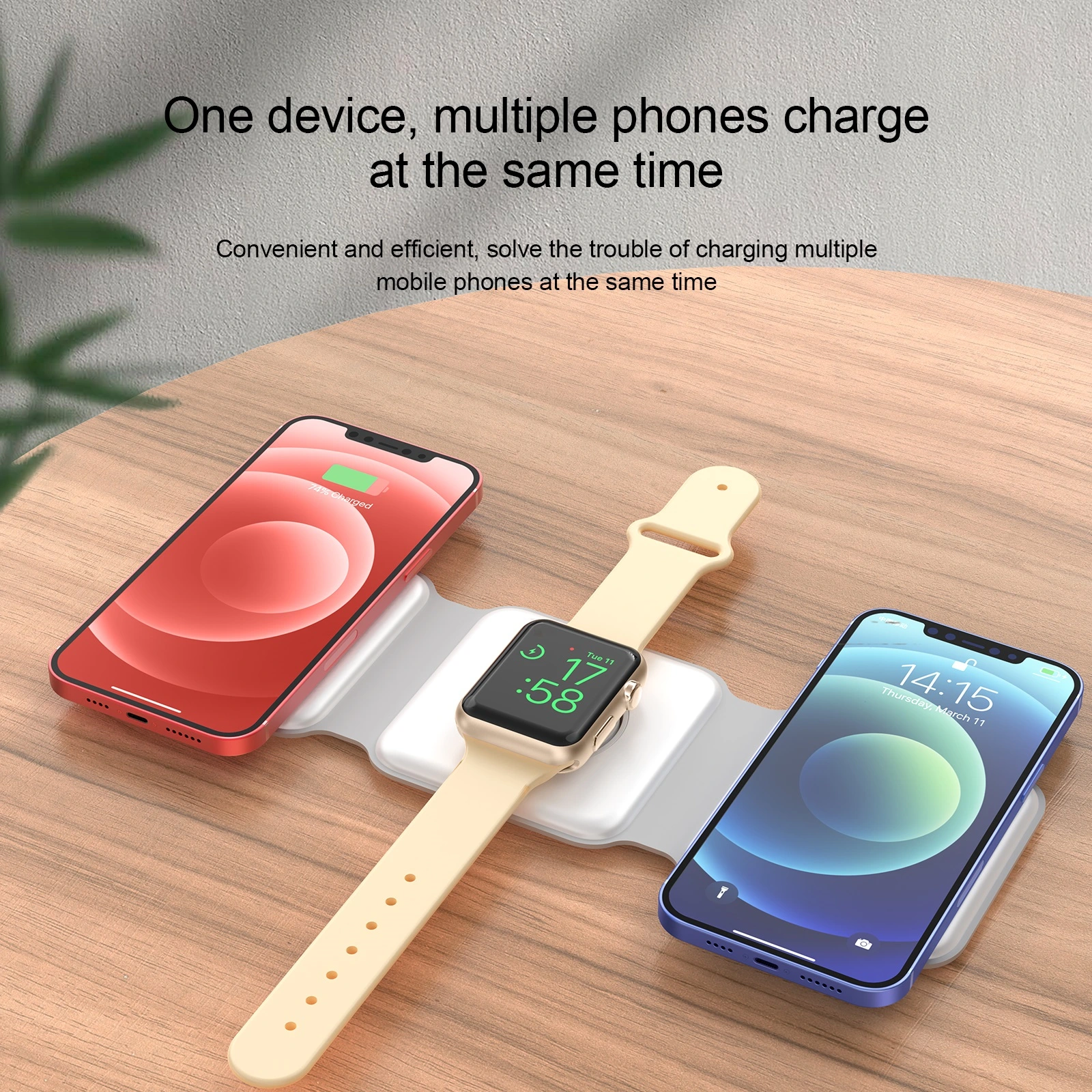 Knowning our the latest foldable travel charger.
Wireless Charging Output Power :Left Magnetic phone charger: 15W Max ( Automaticly adapt 5W/7.5W/10W)
Middle Magnetic watch charger: 2.5W
Rightwireless charger: 3W for TWS earbuds/Airpods or 5W for Qi-enabled phone
Power Input Voltage/Current
dc 5V3A, 9V2-3A, 12V2A (QC3.0/PD, recommond to use 25W PD charger
LED indicator 2 LEDs
Power input interface USB TypeC
Standard/Protocol WPC Qi V 1.3, QC3.0, PD
Wireless Charging Distance
3~6mm for phone or AirPods, 0.8~ 1.5mm for watch
Working Frequency 110-205KHz
Compliance Qi(PCBA), KC, FCC, CE, RoHS, UKCA, PSE, CA Prop 65
Product colour White/Black/ Customized colours
Operating Enviroment Temperature: 0"C~45"C, Humidity: 10% ~80%
Storage Enviroment Temperature -10"C- ~55"C
Coil type & quantity A11 coil*2, watch magnetic coil*1
Enclosure Materials UL94-VO plastic resin. Silicone rubber
Finishing Soft Coating
magnet array:MagSafe Compatible
Product Net Weight 128g;
Product Gross Weight 315g
Product Size 247*74.5*8.5mm
Package Size180* 120*90mm
Qty: 20pcs /CTNG.W:7.5kgs
Compatiable Devices
-iPhone 13 Pro Max/13 Pro/13/13 mini(MagSafe attraction+ wireless charging),

-iPhone 12 Pro Max/12 Pro/ 12/12 mini (MagSafe attraction+ wireless charging),

-Apple Watch series( MagSafe attraction+ wireless charging),

-AirPods, AirPods Pro, AirPods(New),

-Apple Watch 1/2/314/5/6/SE/7,

-Other smart phones, TWS earbuds or devices built-in Qi Rx feature ( wireless charging),

-Foldable Magnetic wireless charger,

-Qi-enabled wireless power technology ,ineliently recognize and adapt to charge Qi-enabled smart phones withspecified power 15W,

-Magnetic watch charger,

-Wireless charger on baseplate support to charge your either Qi-enabled smart phone or Airpods,

-FAST CHARGE technology,

-Multi-protection functions:Protection for over-temperaturelover-currentlover-voltagelshort circuit, Foreign ObjectDetection, etc.

-MagSafe compliable,

-Soft touch finishing,

-Transform as phone holder

Highlights

-Magnetic attraction support user adjustable 360 degree and fits either landscape or portrait navigation model,

PS:

-QC3.0 or PD will be needed to support FAST CHARGE function.

-Recommend to use with 50W or above PD adapter. When charging MagSafe compatible devices, Magneticwireless charger supports to 7.5W output wireless power.

-iPhone will be needed iOS 15.0 or above to support FAST CHARGE function.

-Patent pending in various regions, such as China, Korea, USA, EU etc.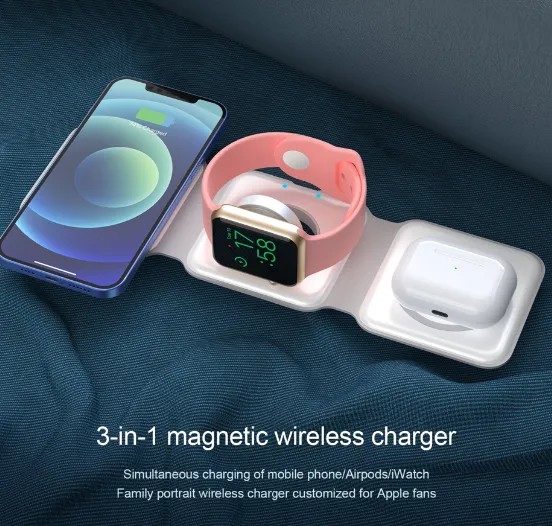 magsafe charger wireless, 3 in 1 mgnetic wireless charger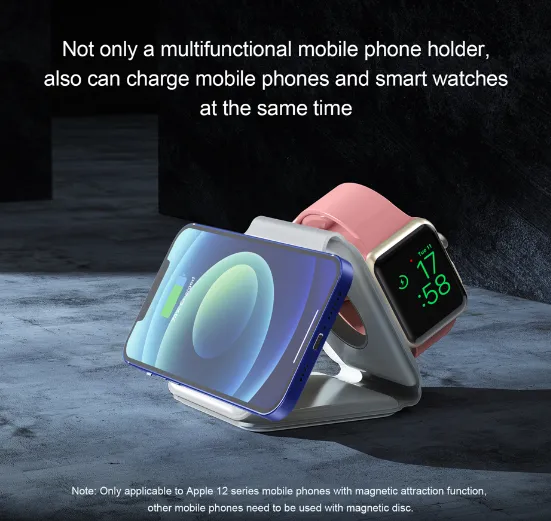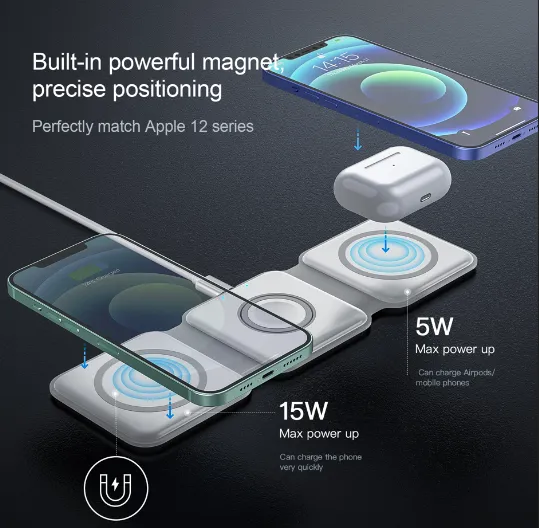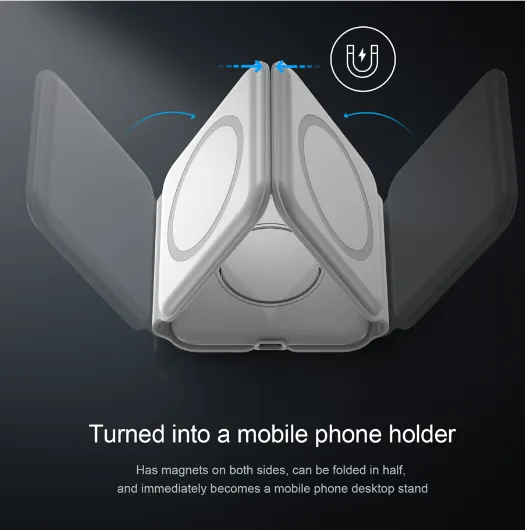 magsafe charger wireless turned into a mobile phone holder.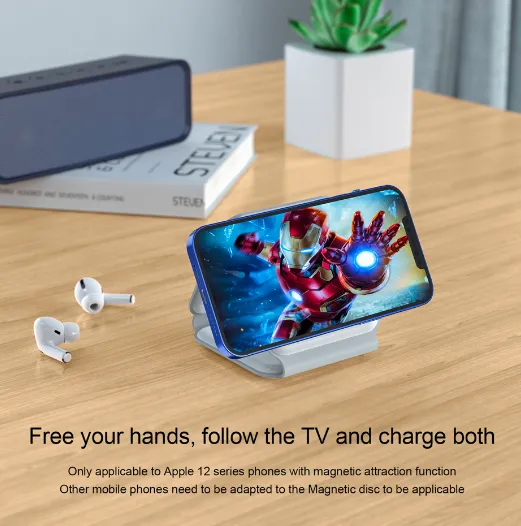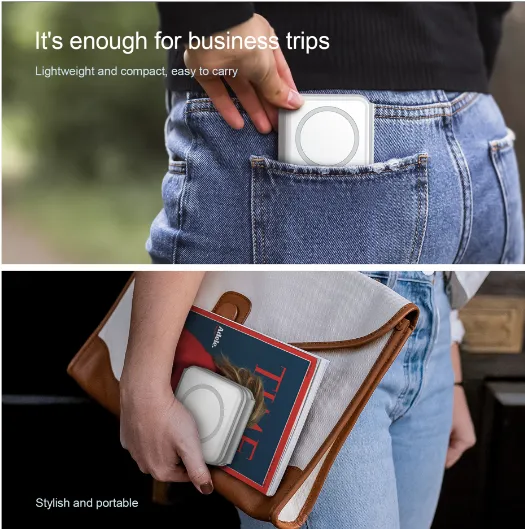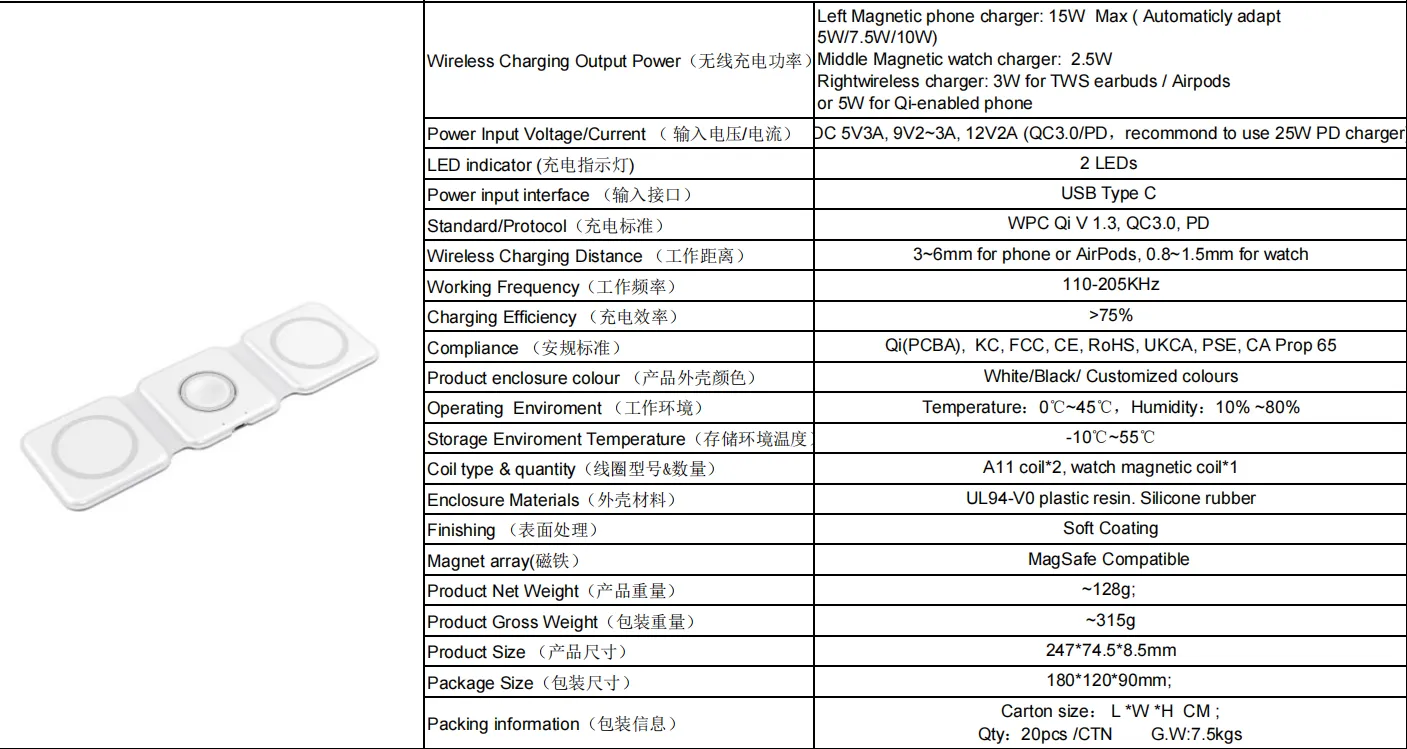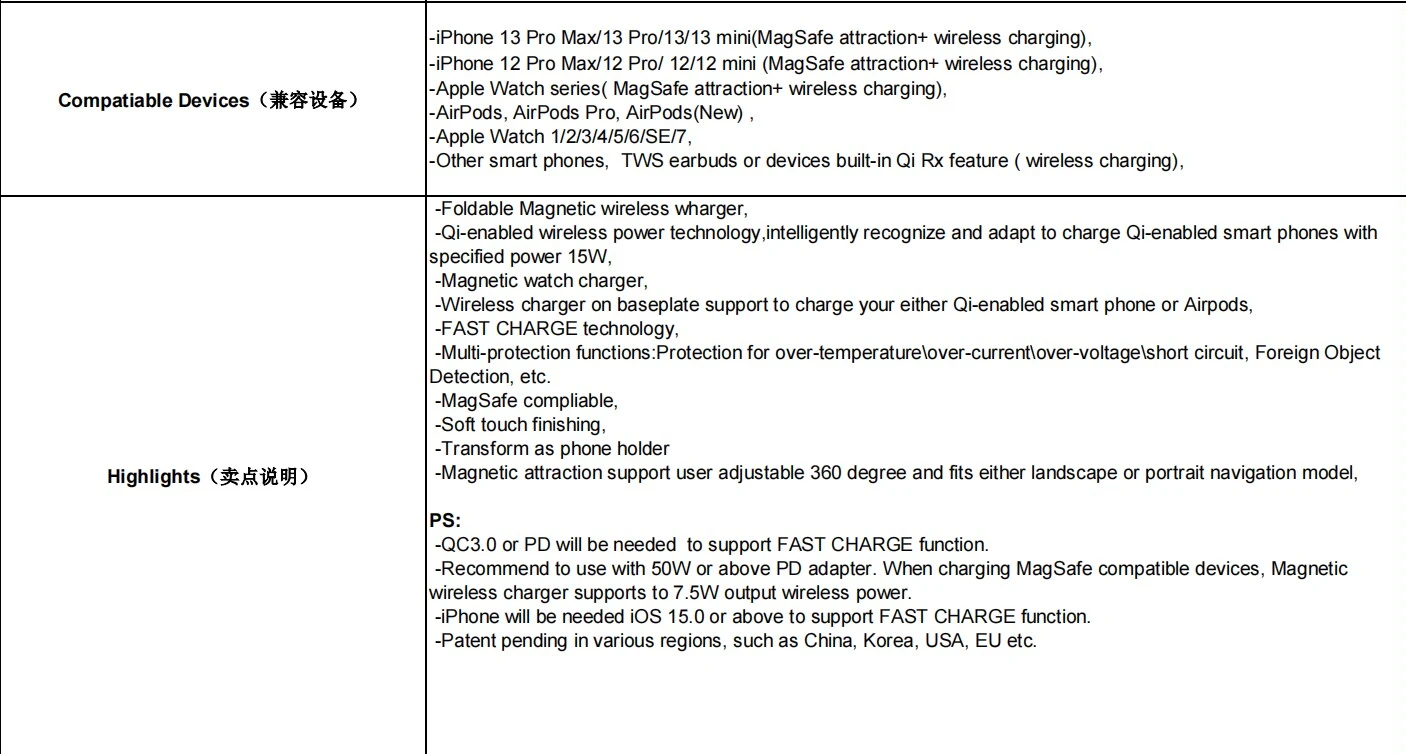 one devices, multiple phone charge.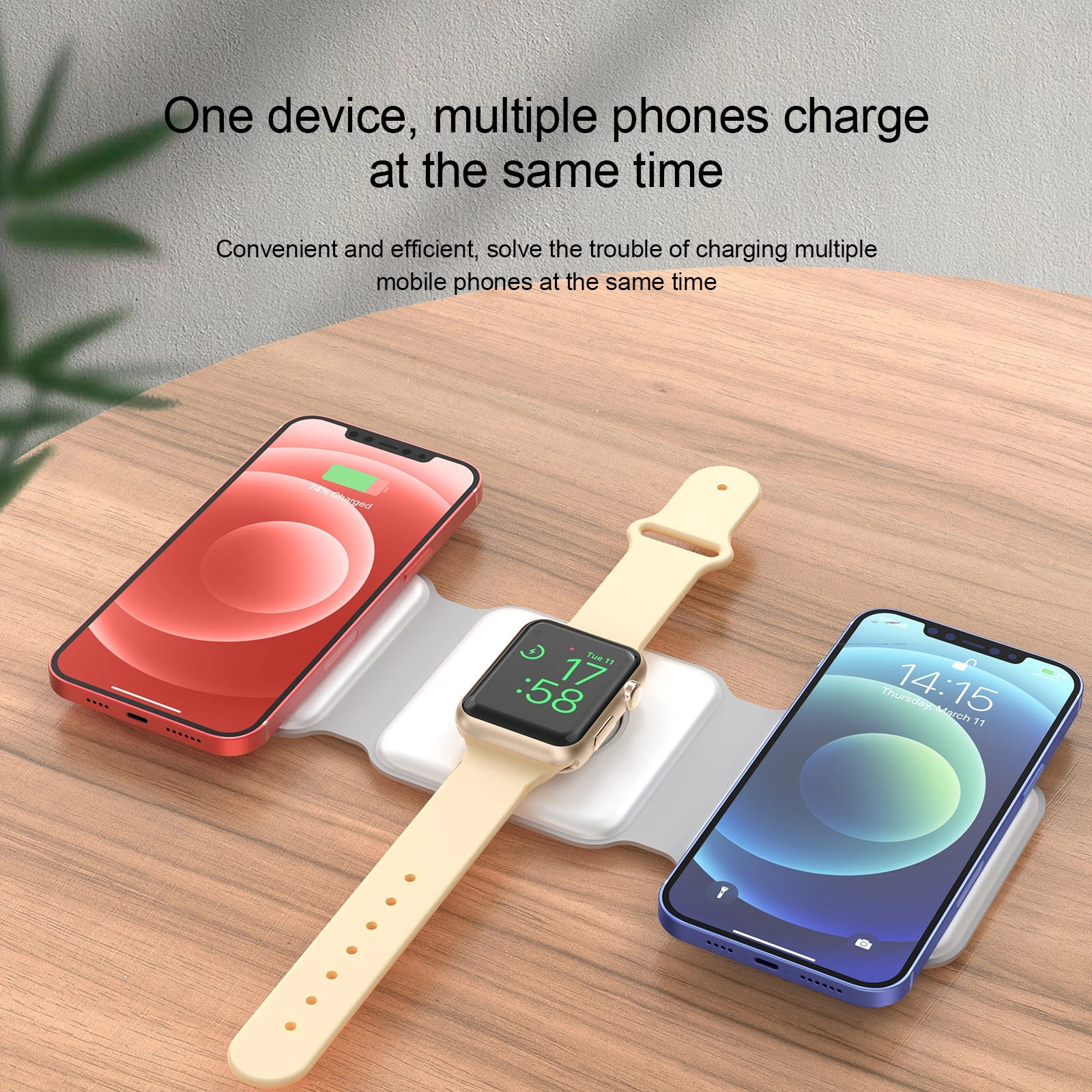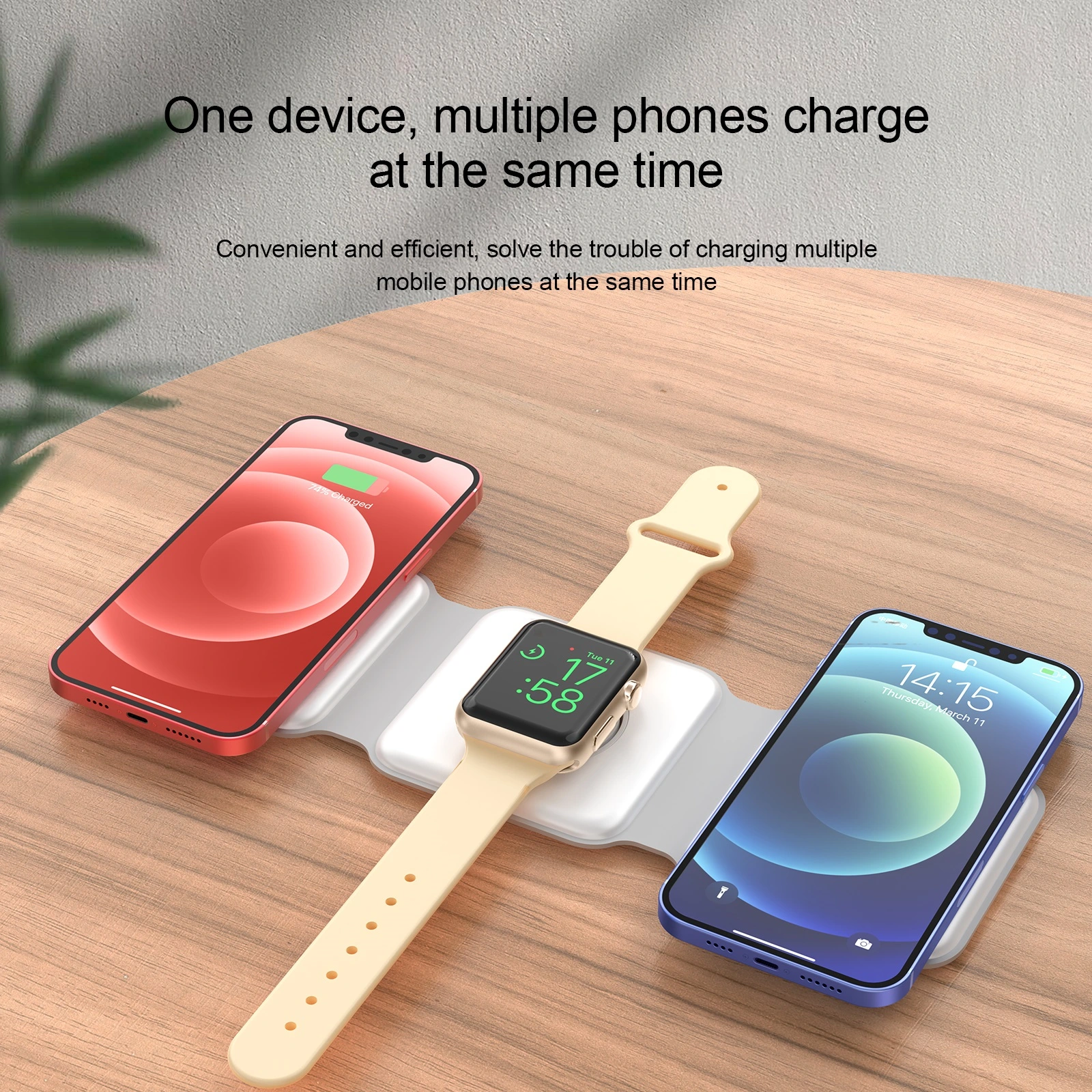 dual lights display design